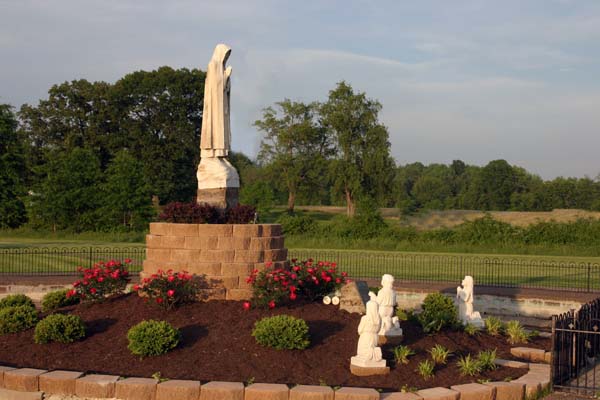 The Shrine
Our Lady of Fatima Shrine
Fr. Phillips was from Johnstown, PA, and was ordained to the priesthood for the Diocese of Columbus on February 24, 1935. His first assignment was St. Casimir Church, Adena, 1935-1952, where he built a parochial grade school.

In 1952, Fr. Phillips was transferred to St. Lawrence O'Toole Church, Ironton, OH. While at St. Lawrence, he started the Immaculate Heart of Mary Praesidium of the Legion of Mary and he also conducted a 15 minute rosary on the radio daily.

While pastor of St. Lawrence he began the Shrine of Fatima at Fatima, Ohio, 8 miles west of Ironton on old Route 52. Due to his great devotion to our Blessed Mother, after visiting the Fatima Shrine in Portugal, he decided to build a shrine near Ironton where many could stop and pray. In this way he would spread our Lady's message. Attorney Jim Riley and his wife Jenny donated the plot of ground.

It was decided that the shrine should be made of free will offerings from people devoted to Our Lady. The ground was first prepared with a high mall on which Our Lady stands and the three children (Lucy, Jacinta and Francesco) kneel. This group can be seen from the highway. Surrounding the mall was placed a circular reflecting pond. A concrete walkway and wrought iron fence surround the reflecting pond.

Extending many feet in the rear is a series of fifteen mosaic Shrinettes representing the fifteen mysteries of the rosary (Joyful, Sorrowful and Glorious). Each Shrinette cost $600 and is in memory of a particular person or family. These protrude at eaqual distances above a concrete foundation. Each is constructed of matching stone ten feet high and five feet wide with space for a two by three foot picture depicting in mosaic form one of the mysteries of Our Lady's rosary. The stone work is Indiana limestone, the work of Henry Cooke, Jr. who also did the long flagstone walkways.

The shrine commemorates the appearances of Our Blessed Mother in Portugal in 1917. The three peasant children saw and heard Mary on six different occasions from May 13 to October 13 to tell them of the only and sure plan for peace in the world.

Our maintaining this shrine is helping answer Our Lady's plea for a place for private visits and for prayer-in-public pilgrimages. We offer it to anyone who will pause, think, pray and in turn offer oneself to Jesus through Mary.

The Shrine was blessed by Fr. L. A. Phillips, May 13, 1954 and blessed by Bishop John King Mussio on October 13, 1962

For the first time in many years, the Shrine is being cleaned and refurbished to inspire parishioners, school children and visitors who stop along their way to pray. A lighted fountain has been added and plans are being made to palce an altar there to clebrate Mass on important occasions. All are welcome as "Our Lady wills it."