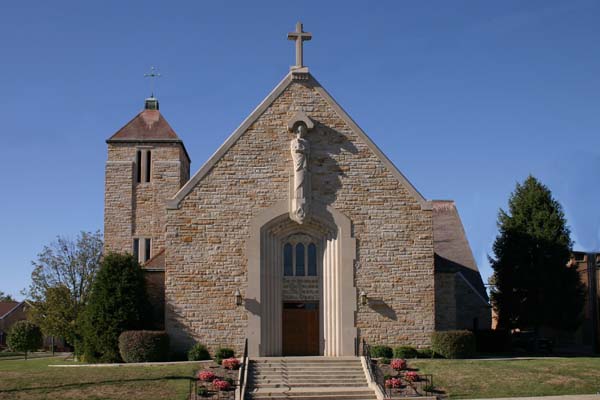 St. Joseph
St. Joseph parish is located in Ironton, Ohio on the corner of S. Fifth and Chestnut. It is one of the most Southern and Western churches in the Diocese of Steubenville. It is one of three parishes that are part of the Catholic Community of Ironton. The church is often times referred to as the "Gem of the Diocese" because it is a beautiful example of traditional church architecture.


History
On the 30th day of December, 1863, in the midst of a nation in torment over the Civil War, a committee of German Catholics purchased three lots on Third near Adams for $450 from the Iron & Coal Co., whose president was Ironton's founder, John Campbell.

Archbishop John Purcell of Cincinnati dedicated the new church on Wednesday, September 21. Fr. Louis Schreiber celebrated the first Solemn High Mass. The first resident priest was Fr. G Ahrens, who arrived in November, 1866. Previously, the church had been served as a mission by the priest at St. Mary's of Pine Grove.

A rectory was built in November, 1868 and the church was enlarged. Both remained in use for nearly 70 years. A school was erected in 1883 and remained in use until 1924 when the new St. Joseph School was constructed on S. Sixth between Quincy and Chestnut. The original school building was razed in 1942.

A new Gothic-style church was dedicated on Thanksgiving Day, November 28, 1889, at the corner of Adams and S. Third. Fr. Joseph Schmitt was pastor. The church remained in use until it was damaged beyond repair by the great flood of 1937. The church had been damaged earlier in the flood of 1913 and repairs were required. Fr. John Schneider served from December 4, 1902 until his death on April 22, 1915. Fr. Francis Gloeckner was pastor from May 6, 1915 until his death on January 5, 1939.

After the flood damage, church services were held in the auditorium of the high school until the new church at S. Fifth and Chestnut was completed. Fr. Ambrose Schilling, pastor, said the first Mass in the new church on October 12, 1949. Fr. John Yonk became pastor on June1, 1954.

Ironton was moved from the Columbus Diocese to the newly formed Steubenville Diocese that was established on November 15, 1944.


The Present
The parish is currently served by Fr. David Huffman. Along with St. Lawrence O'Toole and St. Mary of Pine Grove it makes up the Catholic Community of Ironton.