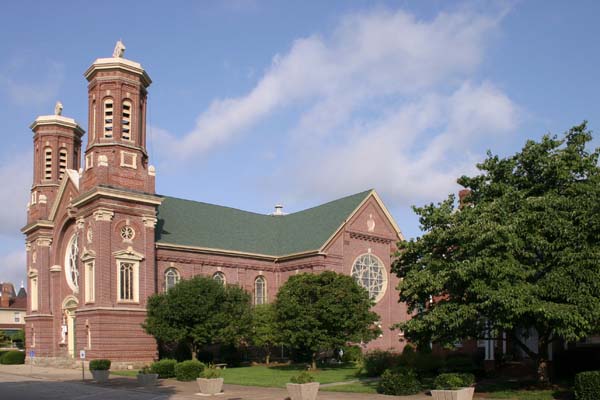 St. Lawrence O'Toole
St. Lawrence parish is located in Ironton, Ohio on the corner of Sixth and Center. It is one of the most Southern and Western churches in the Diocese of Steubenville. It is one of three parishes that are part of the Catholic Community of Ironton.


History
Fr. Richard Gilmour was the first pastor of St. Lawrence parish, arriving in September, 1852. The first church was the result of men from Ireland who came to the area to work on the railroads, and asked Archbishop John Purcell of Cincinnati to build a church in Ironton on land made available from the Iron & Coal Co.

The first church was at Seventh and Center. where an elementary school was to be built later. The church was constructed of wood. A new, more solid building was erected at the same location and served the parish until 1892. That year a larger, more beautiful church was erected at the corner of Sixth and Center.

The building at Seventh was named Gilmour Hall and was used by parishioners until it was razed in 1929 preparatory to building a new elementary school there.

Fr. Phillip O'Donoghue was pastor of St. Lawrence from 1859 until 1870. Following several short-term pastors, Fr. F. Bric was appointed and served from 1876 to 1889. The foundation for the new St. Lawrence Church was laid in 1887 under his direction.

It was then time for Fr. Cotter to arrive in Ironton. The native of Ireland was assigned here on August 12, 1889, and served for over 58 years. He appointed a building committee and the cornerstone for the present St. Lawrence Church was laid July 4, 1891. Bishop Watterson of Columbus was present for the elaborate, community-wide parade and celebration.

Architecture of the new church is Gothic Romanesque, featuring rounded arches throughout. The new church had a seating capacity of 950 and cost $35,000. It was completed in 1892. Fr. Cotter spearheaded a renovation in 1918 and again in 1946.

Fr. Louis Phillips, pastor from 1952 to 1944, led construction of the Our Lady of Fatima Shrine, off old U.S. 52, eight miles west of Ironton. Fr. James Dirker, a native Irontonian, was pastor from 1967 and another renovation took place in 1977.


The Present
The parish is currently served by Fr. David Huffman. Along with St. Joseph and St. Mary of Pine Grove it makes up the Catholic Community of Ironton.